Episode 886 – Monday 11/17/69
So the Countess duPres shows up just in time and stops Josette from jumping. Fair enough.
Barnabas bites the Countess. OK.
Barnabas convinces Josette to meet him at the old house. Alrighty.
Barnabas discovers an altar. Oh boy. Here we go. A bunch of nonsense dialog from these two white ashen beings in black robes, Oberon and Haza, are doing something to our hero. And that in a nutshell is the beginning of this tragic tale.
Episode 886 – Tuesday 11/18/69
So after a strange ceremony on this altar, Barnabas arises and is 100% pure evil… or so it seems. He's being referred to as Master and gets this thing called the Leviathan Box.
Remember this box well kids, it will annoy you so much as the weeks go on.
We are now back in the present, to the day, with Dr. Hoffman reading a journal entry. Oh how we missed the great plot expositor that is Julia! Oh, and what's this, a mysterious man!? Do go on.
I keep trying to put myself in the shoes of the viewers in 1969 who have no idea what in the hell is going on here.
Carolyn is wrapping a Christmas present for her mother. This is a rare reference to the time of year on the show. Believe me, it almost never happens. We also get our first mention of this bloody antique shop. More on that later. Feelings of doom and gloom are permeating this conversation. This is even further driven home when Julia starts hearing voices. I love how Lela Swift uses fast cutting between the portraits of Barnabas and Josette to drive the terror factor up to the max. Add to that the great skill of Grayson Hall as an actor and this is one of the better scenes of the week.
So now we have this old man skulking about. He finds the altar. He is in the old house. Then Julia happens to intercept him. Wuh-oh!
The plot seems good enough at this point. I sincerely think that if someone has missed this episode, they missed some very essential plot points. On your typical soap you could miss one, two, maybe even three episodes and still not miss essential points to understand what has been going on. Not on a show paced like Dark Shadows. Miss an episode and miss a lot!
Episode 888 – Wednesday 11/19/69
So the man has a face and a voice. But the audience still hasn't a clue as to who he is. (Well, the end credits of this episode will spoil that!)
Antiquing-we-go! Say hello to the Todds, Phillip and Megan. Greg quipped "Oh look, it's the antique shop ran by Eve and Alan Spaulding!"
It's great to see Marie Wallace back on the show. The seem normal enough at first. Julia makes a big deal out of a Charles Delaware Tate painting, paying $300 for it (in 2017 money it would be worth $2,003!) OK, so I can grant Julia a pass on this, she is as she explains after the portrait of Quentin.
Alas, Carolyn meets the strange man and verbally kicks him off the property. Forget that the Leviathan altar is there just as a point.
The Todds turn weird towards the end of the episode. Just what do they mean here? And why is that altar splitting apart all of a sudden?
Episode 889 – Thursday 11/20/69
Barnabas appears all of sudden with that box again in the latest edition of Chromakey Theater. Somehow the effect is better utilized here than other times.
Professor Stokes is back and he's seeing Sabrina Stuart – the victim of Chris Jennings.
Julia and Barnabas are reunited. The box is there, of course. He is acting all strange. Oh yeah, and the box is very old.
So Sabrina is talking all of a sudden and wants to see Carolyn. She warns her that Chris Jennings will try to kill her. There is a device in soap operas called SORAS… Soap Opera Rapid Aging Syndrome. I think we need to come up with some other version of that for people that make miraculous recoveries for the convenience of the plot. There are more crazy examples of this in later years on other soaps.
At the end, Julia wants to open that damn box. We are treated to the first of many times of having just some random person (probably a stagehand) breathe into the boom mic. Are you frightened at 4:26 in the afternoon?
Episode 890 – Friday 11/21/69
Of course Barnabas shows up to prevent Julia from opening the box. I think everyone in the audience knew that was going to happen.
So a mysterious Corey is interested in buying Tate paintings as well. Julia thinks it's Quentin. That is too easy and such a naive solution, way out of her character. But she can't stop fawning over how much Barnabas is out of his usual self. The audience is just as confused and mystified. Remember when I said that if you miss a show you miss a lot? It's been said that people starting writing in when Barnabas went back to evil ways in this plot in protest. I can certainly understand why they did so. Imagine Star Trek fans doing the same should Mr. Spock or Captain Kirk do the same thing. Fans are a strange breed, you never can predict what they are going to do or how they are going to react. Maybe someday I will dig through local newspapers of the period to see if there were a lot of letters to TV mailbags complaining about this.
Oh look, a pentagram!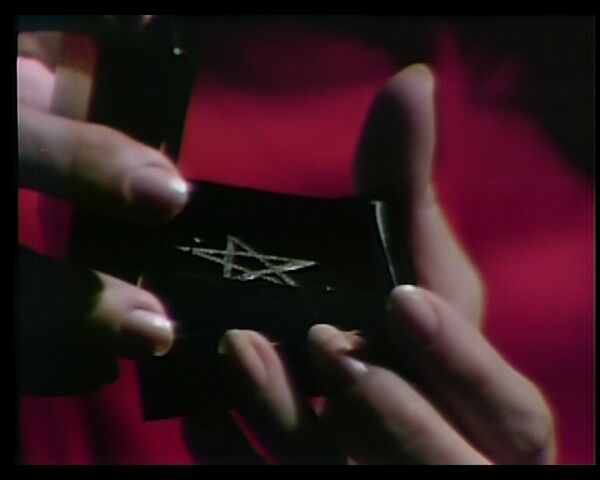 Barnabas wants guidance from Oberon on how he is to know who the chosen ones are. And, of course, right at the Friday cliffhanger, they are at the door!
So, after one week of this plot where do we stand? I think the massive ticking off of the audience has well and truly started. It's only going to get worse from here. I don't know if anything could save the course the writers and producers have went on at this point. There was definitely no turning back.